Tight-end Out Passing Concept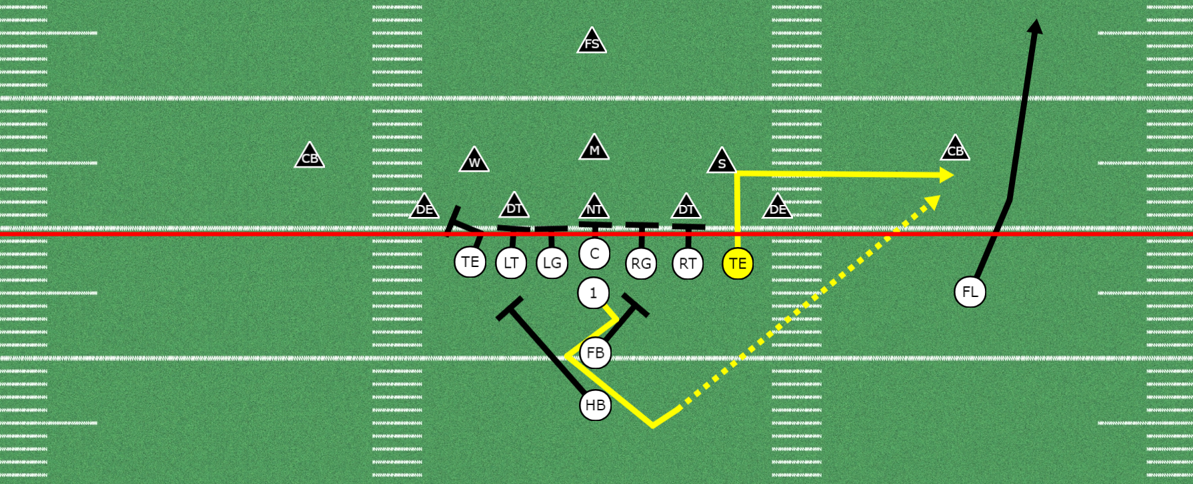 The Tight-end Out Passing Concept is a great play-action play that puts the outside linebacker in conflict. Most of the time the outside linebacker will bite up for run, leaving the Tight-end wide open in the flat. The outside receiver will run off the cornerback. This concept works very well against almost any coverage. This is a play that hurt my defense a few times last season. If executed properly, this play is a nightmare to defend.  It's easy to install and it works very well in youth football.
Tight-end Out Passing Concept for Youth Football
Center: Block head up nose guard.
RG: Inside-Over pass blocking.
RT: Inside-Over pass blocking.
LG: Inside-Over pass blocking.
LT: Inside-Over pass blocking.
TE: Backside TE secures backside of the QB.
TE: 5 yard out, continue running to the field.
1: Open right, fake to the FB, fake to the HB, plant and look to hit the TE in the flat.
FB: Fake dive right, secure the edge.
HB: Fake handoff to the left, secure the edge.


Coaching Tips 
Good fakes are needed. Running backs have to sell the fakes!!!
QB needs to get depth and not exaggerate the fake. QB needs to be quick, get some depth and hit the TE on the out.
Call this play on a run down and distance and watch it hit big.
TE needs to drive his route up the field for 5 yards, then break. It's the QB's job to get him the football quickly. He must continue his route to the field.
You need to run dive and/or ISO before you run this tight-end out passing concept. Once you establish the run, this play will hit big.
This is a timing concept that does need to be practiced. Once the QB gets the timing and throw down,this play can hit big.
Once you hit the defense with this pass it will slow down the run pursuit of the outside linebacker.
(See Also) I Formation Playbook