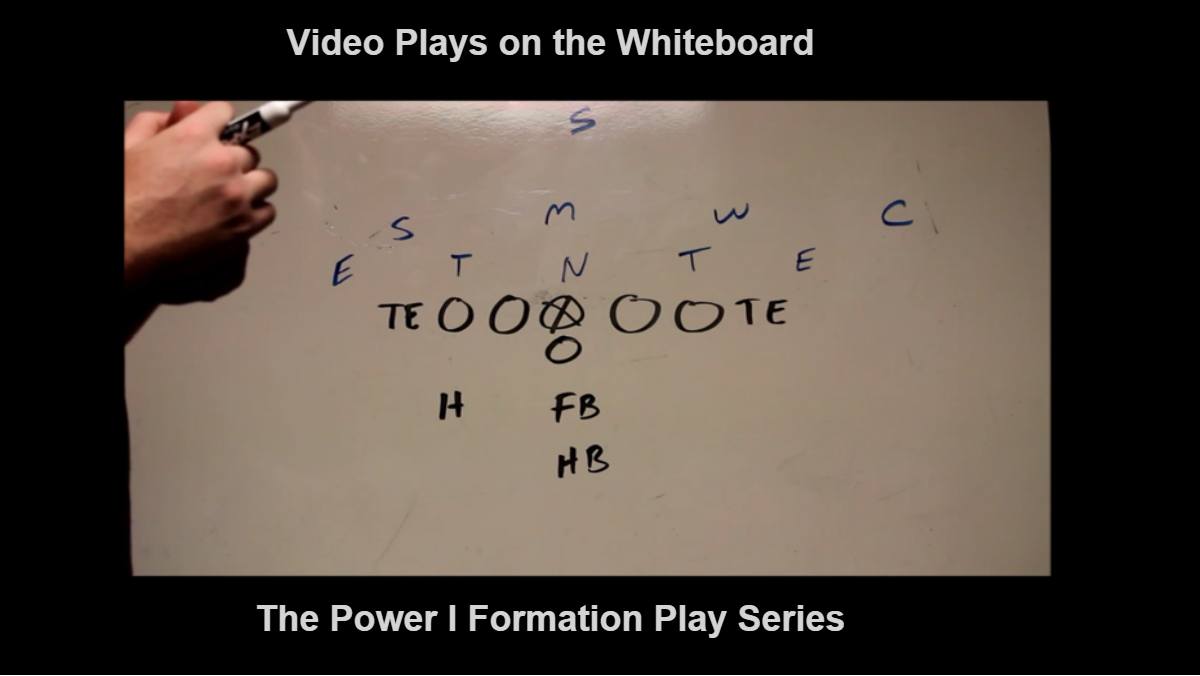 Power I Formation Plays & Playbook
Overview
The power-I formation, also known as the I-formation is a formation that features two tight-ends, H-back, QB, fullback, and a half-back. There are a bunch of different formation variations.  The Power I Formation Plays & Playbook can be installed in just a few practices.
Power I Formation Plays & Playbook
Easy to Implement-Youth Football Friendly
Ground and Pound
Explosive Play-action Passing Play
Formation Friendly.
Easy To Implement
This formation is very youth football friendly. The power-I formation is simple and at least 2 plays a practice can be installed. The power I will accommodate teams that do not have depth at running back. Most youth football teams only have a handful of kids that can actually run the football. When running this formation you really only need one or two running backs.
Ground and Pound
This power I formation plays & playbook will allow your team to really pound the football inside. This formation will feature two tight-ends, which spreads the defense out horizontally. When you have two tight-ends, it makes the defense defend both sides of the formation. The power-I will allow you to implement various blocking schemes. You can utilize double team blocks at the point of attack when facing big/strong defensive linemen.  You can also use a down blocking scheme, where each offensive linemen blocks down.  Utilizing cross blocking is also very effective out of this formation.
Explosive Play-action Passing  
This formation has such an explosive play-action passing game because it is such a ground and pound offense. Once you are able to pound the football, the defense will commit to stopping the run. Once the defense starts selling out and blitzing to stop the run they will get burnt with the play-action passing game.
Formation Friendly
This power I formation plays & playbook is a compressed formation, but you can still spread the field as well. You can utilize a split-end or even go with twins (two receivers to one side). Spreading the defense out will allow you lighten up the box. Meaning, you will be taking defenders out of the box because they have to respect/cover the receivers split out wide. The off-set I-formation is also a very good formation. The off-set power-I will add some deception to the offense. Defenses will tend to over shift to the off-set fullback side, which will open themselves up for counter plays.
Power I Formation Plays & Playbook Series
Power Play
The power/blast play is the base play of this series. Every play will work off of the power play. You can also base block or even cross block on this play. You can utilize unbalanced formations to give you an extra blocking at the point of attack.

---
Trap Play
The trap play is a quick hitting play that works off of the power play.  The trap play does take some practice. The timing on the trap needs to be precise and quick hitting. It will take a couple of reps, but the kids will get the timing down rather quickly. Wedge blocking can also be implemented, rather than trapping.
---
Counter Play
The counter play is an excellent way to deceive the defense. Once the defense is aggressively selling out to stop the power you hit them with the counter play. Much like the trap, the counter does take some practice reps.
---
Power Pass Play
The power pass is a very explosive play-action passing play. This play fakes power & trap, then attacks the defense with a corner route and a flat route- a high – low concept. You also have the option to have the backside tight-end run a skinny post.
---
---
Additional Power I Formations
When defenses start loading the box, come out in twins. It will make the defense commit defenders to covering the two receivers. This will lighten up the box a bit. There are many different power I formation plays & playbook that can be utilized in youth football.
 Power-I Formations
                           Off-Set Left                                                    Off-Set Right  
Wing Left                                                                                   Wing Right 

These are the best power-I formations for youth football. I particularly like the off-set formation. The off-set will give your offense more options. I also like the I-formation because it utilizes a wing-back (WB). There are many way you can utilize a wing-back.
Conclusion 
These power I formation plays & playbook works very well in youth football. This series of plays all complement each other. These plays can be install in a short period of time. This series can be installed during the practice week as a nice complement to your main offense. You can implement the same plays we that are shown on video out of different formations.
(See Also) 3 Ways to Run the Power Concept out of the Spread
---
Get Your I-formation Playbook