Fullback Pass Play | Play-action Pass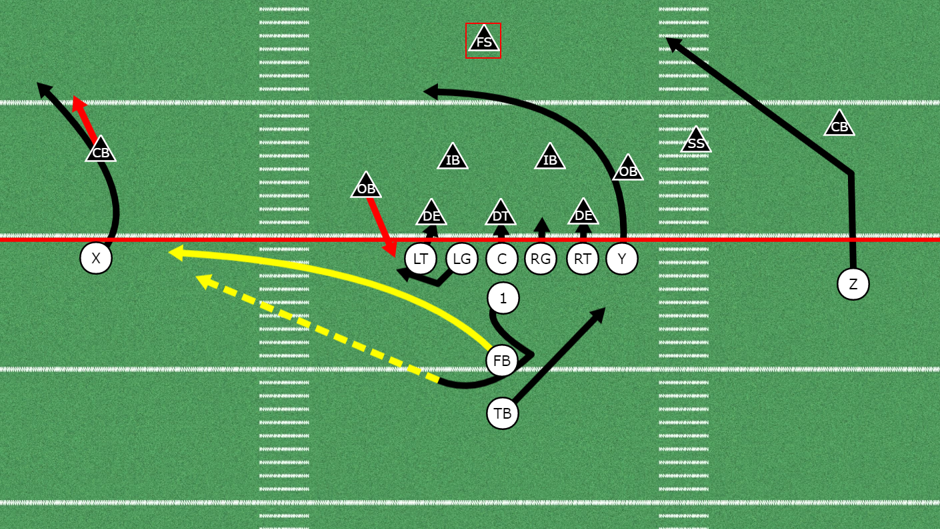 This fullback pass play is a play I saw when I attended a local high school football game this past weekend.  I like this play very much and it definitely can be effective on the youth football level. This team was very run heavy, they ran the I-formation and really tried to pound the rock with Power, Iso, and Wedge. This team really kept pounding the rock which is why this play-action pass worked so well for them.  This is a very difficult play to stop on any age level of football. This play was executed on 1st and 10 which is a great run down for this type of offense, so it really caught the defense playing aggressively against the run. This was a great a play call. Many times a play is great when it is called at the right time!
Fullback Pass Play | Play-action Pass
Last season we had a team run a similar play against us in a playoff game and it gave us issues early on. What we had to do was literally tackle the fullback when he faked. We had our outside linebacker stay with the fullback. This stopped the pass play but we had one less defender to pursue to the ball carrier on their counter and power runs. I'm a big fan of this play.
QB:  Open left, fake hand-off to the TB to the right, plant and throw to the FB in the flat.  This play can also be a run-pass option for the QB on the move.
FB: Fake taking hand-off left, then run into the flat. Make sure the FB doesn't bump into the offensive linemen. He must run his pattern with his head up looking for the easiest path into the flat.
TB: Fake power to the right. TB must execute a good fake. Once he fakes he needs to pass block, look to block the defensive end.
Y: 10 drag, keep running to the field.
X:  Corner route, run off the cornerback.  Need a good hard release to make the safety and the cornerback respect the route.
Z: Post.
RT: Pass Block.
RG: Pass Block.
C: Pass Block.
LG: Cross Block,  Pass Block. ( Key Breaker)
LT: Cross Block, Pass Block. (Key Breaker)
This play is easy to install and it will work very well on the youth football level. It is an easy throw and the play-action will help slow down the pass rush.  If I ran the I-formation I would definitely install this play.
(See Also) I Formation Playbook for Youth Football
(See Also) Power I Play Series
Coaching Points
Set up this play by pounding the ball down the defenses throat.
Call this play on a run down and distance ( 1st & 10,  3rd & 2) and watch the defense get toasted.
Great fakes are needed by the tailback and the QB.  They must really sell the run action.
The play-side offensive line can cross block to make it look like power. This is an excellent way to get that outside linebacker up for run.  It's a great way to key break linebackers (key breaker- when linebackers reading guards).

You don't have to have the OL fake cross blocking, you can just have them pass block one on one.